Welcome to the palatial magnificence of my personal web site.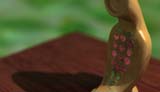 I'm working on a luxury phone concept now. My phone designs are sensuous, opulent, beautiful, and I have posted some images on my Luxefon website. So far, it's a slide show with some of my music, and a gallery. I'll be adding onto that as the business progresses. I have an ad with Sundeck, an affiliate of Sunseeker Yachts.
Check out my music. I wrote a lot of that when I was working with some people who thought they were going to make a big film studio.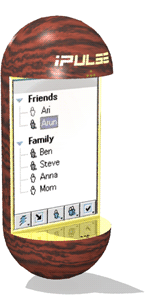 I used to do Java development and web site design and implementation. The Java I've done is mostly on the server side, using Servlets, naturally. Most recently, I used XML/XSL to serve up the mobile presentation layer for, iPulse, a high-powered instant messaging application created by Oz of Iceland. The fanciful phone at left based on the screen representation of the iPulse PC client. For more info, take a look at my software development résumé. Some of the people I worked with are now starting another company www.hex.is.
I'm starting a new website at www.dmgreer.com, to be more professional than personal. Not much there yet, but I'll be featuring most of the same stuff as here, but organized differently.
I've also made this thing I call a 3D Ski Slope Visuallization application. Regular ski maps show trails for Beginner, Intermediate, and Expert, but oftentimes a Beginner trail on one mountain might be as difficult as an Intermediate on another. Coming from a data visualization background, I had the idea that a 3D map of a mountain, with color coded slope intensity would give a better idea of trail difficulty. Here are thumbnails of the five I've been working on. These links will open a new page on my new site at 3dskimaps.com.
| | | | |
| --- | --- | --- | --- |
| Bear Valley, CA | Telluride, CO | Brighton, UT | Taos, NM |
| | | | |
| | | | |
| Homewood, CA | | | |
| | | | |
Also, check out my cool, mathematically shaped sundial.

2003 July 17 - New sundial pics! I finally unearthed the software I used to create my sundials.

2003 July 24 - New sundial movies!
© 2003 Dale M. Greer, All rights reserved